Last year I won honorable mention at the Great Lakes Pastel Society Members show. Part of the prize was this
large pastel heart made by Terry Ludwig who was the judge.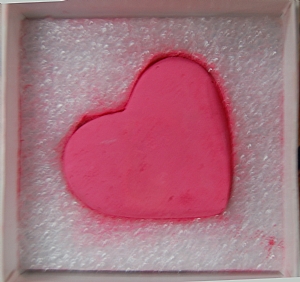 I was charmed by the heart but not sure what to do with it. I decided that it would make a good color for an under-painting. I made some cross hatched strokes across white Wallis paper then dipped a brush into clean paint thinner and brushed it across the surface which resulted in a shocking pink piece of sand paper.
I thought this was the perfect backdrop to do a painting of my daughter being back lit with evening light. This allowed me to push the values very light where the sun was hitting and then use very cool tones on the rest of the skin. I have been surprised how easy it is to express the unique qualities of rim lighting using this technique. I have posted the painting below. One is the full size painting and the other is the detail. This is not yet finished but I thought I would post it while the pink wash was still very obvious. I will post it on my website as soon as it is completed.