Blog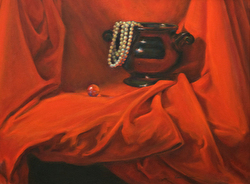 I am known primarily as a portrait artist and, yes, I have always had a fascination with the human face. I have a knack for capturing likeness and trying to capture the subtle tonal and temperature shifts that are present on the facial planes never fails to thrill me. I find, though, that if I work exclusively on portraits for a while I get bored. That is why it is important I work on all subject matters for each has lessons to teach and challenges different aspects of my brain.

Portrait keeps my drawing skills sharp. We are so sensitive to the human face that any distortion in the form is noticed immediately. Sometimes the viewer can't name the discrepancy they just know that the face does not "look right". In landscape you can move a tree to where you please, in still life a vase or flower can be a different size than real life, but in portrait an eye and a nose have to be the right shape and go where they are supposed too.

Landscape, especially plein air, sharpens my ability to describe light. When I am outdoors in front of my easel I know the light that entrances me will only be present for a short amount of time. The challenge is to get in the big shapes and the color of light within the first twenty minutes so that when it does change I have already made my major decisions and can work in the midtones. Even then I have at most three hours to work a painting from start to finish. Landscape painting has taught me not to fuss.

Still life allows me to challenge myself outside of my comfort zone. I am currently trying to learn watercolor and am using simple still life set ups to gain confidence. With still life I control the light and the form and can make it as complex or easy as I like. Because the subject matter does not need a break and the light never changes I can focus on what I need to learn and not worry about time constraints. I use still life for all kinds of study. Sometimes I want to explore different color harmonies or value scales or in the case of "Seeing Red". I simply wanted to paint red cloth and attempt to create the feeling of light and depth in the folds.

For me subject matter matters. Each one offers challenges and learning experiences that affect one another. Like a balanced diet I need to portion what I am working on to keep all of my skills strong.