The "Go To" Palette For Oil, Acrylic, and Pastel

As an instructor I find students have a hard time translating value into color. While the simplicity of a monochromatic painting is easy to understand, once students put a range of colors on their palettes value is forgotten and color becomes overwhelming. I was looking to simplify this transition and help students bridge the value into color transition with a palette that would give them success regardless of the lighting conditions or the local skin tone. Last week during my "Gesture Portrait" workshop we began our color studies with what I call the "Go To" palette. At first they struggled but being the terrific class they were they gave it a couple of tryouts with tremendous success in the end. I have posted them at the bottom of the blog.
The "Go To" palette mimics a cool light source and warm shadows. It is not about replicating what you see but instead using a predetermined color scheme to get a painting that looks luminous. It is a palette that an artist can "Go To" when they are not sure of the color. The palette is limited, and the concept is simple.
Everything in the light is being influenced by blue.
Everything in the shadow is being influenced by the complement of blue which is orange. White is blue, therefore white is not used in the shadows.
The middle tones that transition from light to shadow is where the brightest colors reside. To start, begin with your gesture then block out the light/ shadow pattern. Everything in the light will have white somewhere in the mixture.
The "Go To" Palette for Oil and Acrylic
Burnt Sienna, Ivory Black, Cadmium Red, White – you can mix an wide range of colors and values with this palette.
Go to palette- how to mix
Shadow- Make a thin wash from Burnt sienna, and a bit of black to tone the canvas. Darker tones can be made from Burnt sienna, black cadmium red. NO WHITE IN THE SHADOW!!!
Lights- White, burnt sienna, cad red,
If you need a blue in the light area mix the white and black.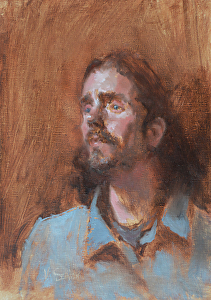 Small Gesture 5x7 oil
For a step by step demo of this palette go to my previous blog post on gesture portrait.
The "Go To" Palette for Pastels
Most of your sticks are premixed pigment. You can mix by glazing and layering. Know the value range of your pastels as well as their intensity range. You can mimic the palettes of oil painters.
Hubby 8x6 Pastel
2 dark values of brown
Mid –dark brown
Darkest brown
You can also add in yellow/ greens and red/violets into this value range.
2 light values of pink
Mid Light value of pink
Lightest value of pink
You can also add in blues and blue/violets and blue/greens into the light. Just make sure they are the same value as your lights. I compare values by holding one pastel next to the other. If you squint at the two pastels and they appear to fade into each other they are the same value.
Middle values – violet, blue, pink, green. - These are your most saturated colors and are used to transition or "walk" between the light and the shadow. Make the transitions subtle to round the forms.
Highlight –White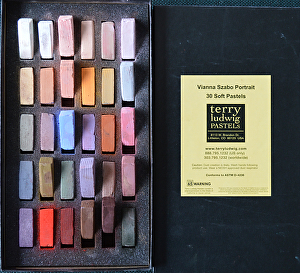 For this painting I used my Vianna Szabo Terry Ludwig Portrait Set. I chose the palette by tipping the pastels in their slots. This made it easy to find what I needed to create the painting.
Below are samples of the students work using the "Go To" palette. These were all painted in under an hour.