I was pondering what was the thread that runs through all of my work? Even though I paint in several mediums and love diverse subject matter, there is something that compels me to the canvas and gives a spark of joy each time I paint.
It is the illusion of depth.
This is interesting since I am pretty much a one-eyed artist. As a young child I was diagnosed with amblyopia in my right eye. This is a condition where my eye does not communicate with my brain. The world through that eye is a confusing jumble of shapes and almost images that never quite solidify. Having one eye also affects my sense of depth perception. Ophthalmologists say I see the world flat but I do not know any differently. My brain has adapted so I do not run into walls or fall down manholes. Toss a ball to me, however, and I will fumble and miss it. It is fascinating how the brain can adjust for weakness and compensate. There have been many one-eyed artists throughout history. Our flat vision helps us translate the world onto a flat surface. Our ability to compensate for that flatness also helps us identify visual elements that give the illusion of depth.
When I was first learning to paint, a friend, who is a very talented artist, would critique my work. She told me my backgrounds were flat and that I needed to "paint through" the figures. At the time I was so enamored with depicting the people that I failed to see what she meant. Then one day she was critiquing me as I was working on a painting. I added a stroke to the background where I used the broad side of a pastel to come up to the edge of the figure then lifted the pastel and continued the stroke on the other side. "Perfect, don't touch that!" she yelled. Stepping back I saw the difference. This gave an instant sense of space behind the figures. I had created depth on a flat surface.
Depth became the focus of my work. I learned how to step values to bring objects forward and push others back. I learned how to neutralize colors to make distance. I practiced different applications and found specific strokes that would enhance the illusion of air. Often the last strokes that I make are those that add nuances of dimension and space. Knowing how to control these elements has helped me when working with photographic references. I can translate the flat image of the photograph to seem more dimensional in my paintings.
To me it is pure magic that artists can transform a two dimensional surface into a dimensional representation where the viewer imagines wandering around and through the painting. The compensation for my weak eye has been the focus and joy of my painting.
I will be teaching a workshop, March 23rd - 25th, in Ann Arbor on creating the illusion of depth. The workshop also features a critique session for more information click here.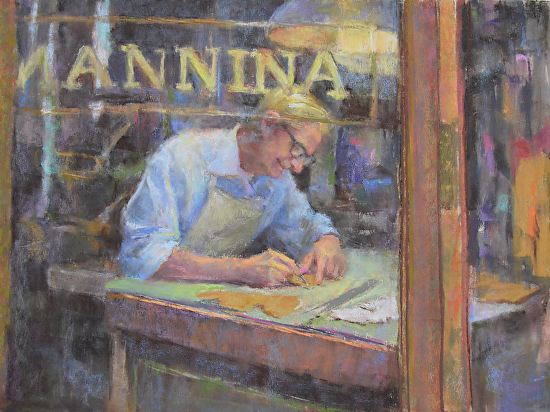 This is a work in progress. I love this composition because it is about layers of depth. The values and colors are pretty much in place. I will be finishing this piece by softening edges and neutralizing colors to push them back and adding a few hard edges and brighter colors to come forward.